Learn About Gold and Silver
Schedule a 1-Hour Live or Virtual Presentation on Gold & Silver
DMK Metal offers two different 1-hour educational presentations on the value of gold and silver: It's All About Gold and How to Identify Your Gold and Silver Treasure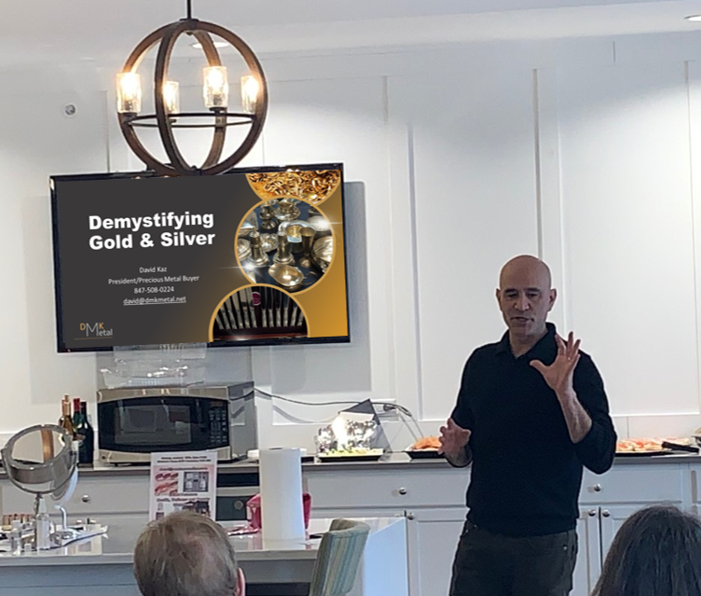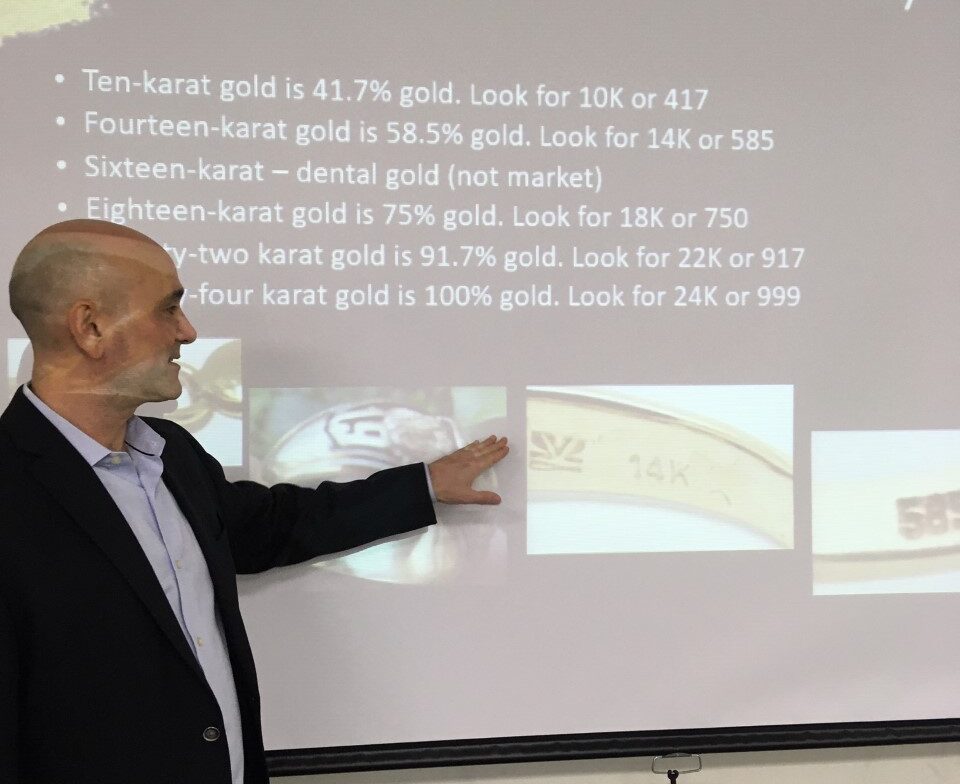 "It's All About Gold" is a 1-hour educational presentation on the value, history, and uses of gold and silver in the United States. DMK Metal Founder, David Kaz, offers his extensive knowledge about gold and silver including how to identify the value of your own items.
Various organizations such as Senior Centers, Retirement Communities, Universities, and Financial Institutions have invited David to present on this fascinating topic. You will learn about gold and silver in both these presentations.
How to identify your gold & Silver treasure
In this 1-hour presentation, David does a deeper dive into the value of gold and silver.
This presentation is for audiences looking to find and evaluate their own gold and silver treasures lurking in their jewelry boxes, silver pantries, and change jars. David dives into various topics such as: What is the difference between 10k, 14k, and 18K gold? How do I know if my flatware is sterling? What do hallmarks on antique silver pieces from Europe mean? What U.S. coins have gold and silver in them? And much more.
Various groups throughout the Northern Chicago Suburbs have hosted David's learn about gold and silver presentations. These groups include Elderwerks, Dickinson Hall, Patty Turner Center, Northshore Senior Center, Sheridan at Green Oaks, Carriage Oaks, Roosevelt University, Wintrust Bank, Associated Bank, and The Lodge in Northbrook.
Join these organizations and schedule an educational presentation for your group, today!
Let us help you drive attendance for your next live or virtual event!