Are you getting ready to sell your silver flatware? If so, there are a few things you should know before you proceed.
Here are five tips that will help you get the most out of your sale:
1. Figure out if your flatware is sterling or plated 
Before selling, it's important to know if your silver flatware is sterling or plated since sterling silver is much more valuable.
If you're not sure what you have, there are a few ways to check:
Look for a mark. Many pieces of flatware will have a mark that indicates that they are made of sterling silver. Common marks include "sterling" or "925". Other numbers include 800, 835, 900, and even 813H.
If your antiques originate from Europe, you can look for a side profile of the full body of a lion, a king or queen head, or a panther head. Any of these symbols are a pretty good indicator that your flatware is sterling silver.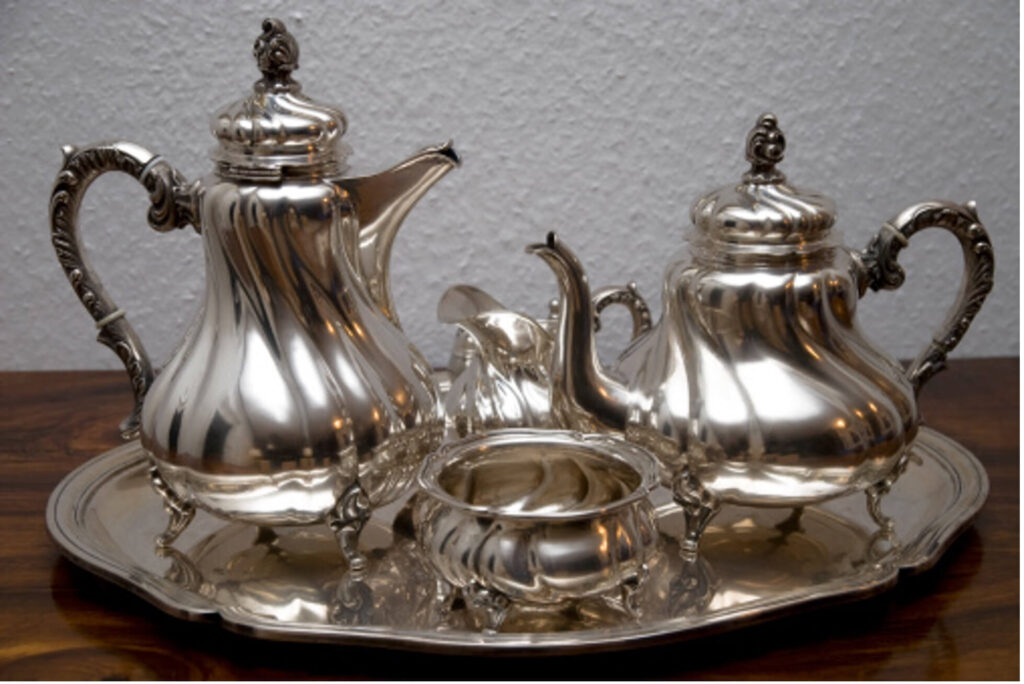 Overall, it's essential to know whether your pieces are sterling or plated, as this will largely affect their value. Generally, with sterling silver flatware, you can expect to get a good price from a reputable buyer. On the other hand, plated silver may only be worth scrap value. 
Knowing the difference can save you time and help you get the best deal. If you want to learn more ways to identify silver or plated flatware, check out an earlier blog post. 
2. Check what similar flatware items are being sold for
It's always a good idea to check what similar items are selling for before putting yours up for sale. This way, you can get an idea of what people are willing to pay for and can price your sterling silver flatware accordingly.
You can do this by visiting sites like eBay or Etsy. Look at the prices that related items have already been sold for and get an idea of what range you should be expecting.
When checking silver prices, be sure to consider the condition of the items being sold and compare them to your own sterling flatware. If yours is in better condition, you may be able to sell it for a higher price. It's also worth considering any unique features or history that your pieces might have – these can add value and make them more appealing to silver buyers.
Doing this will help you avoid pricing your silver flatware too high or too low. For instance, if you set your price too high, you may not get any buyers. Similarly, if you set it too low, you could be missing out on a big chunk of money.
3.  Get it appraised
If you're not sure how much your sterling flatware is worth, it's a good idea to get it appraised by a professional. This will give you a more accurate estimate of its value and allow you to negotiate a fair price with potential buyers.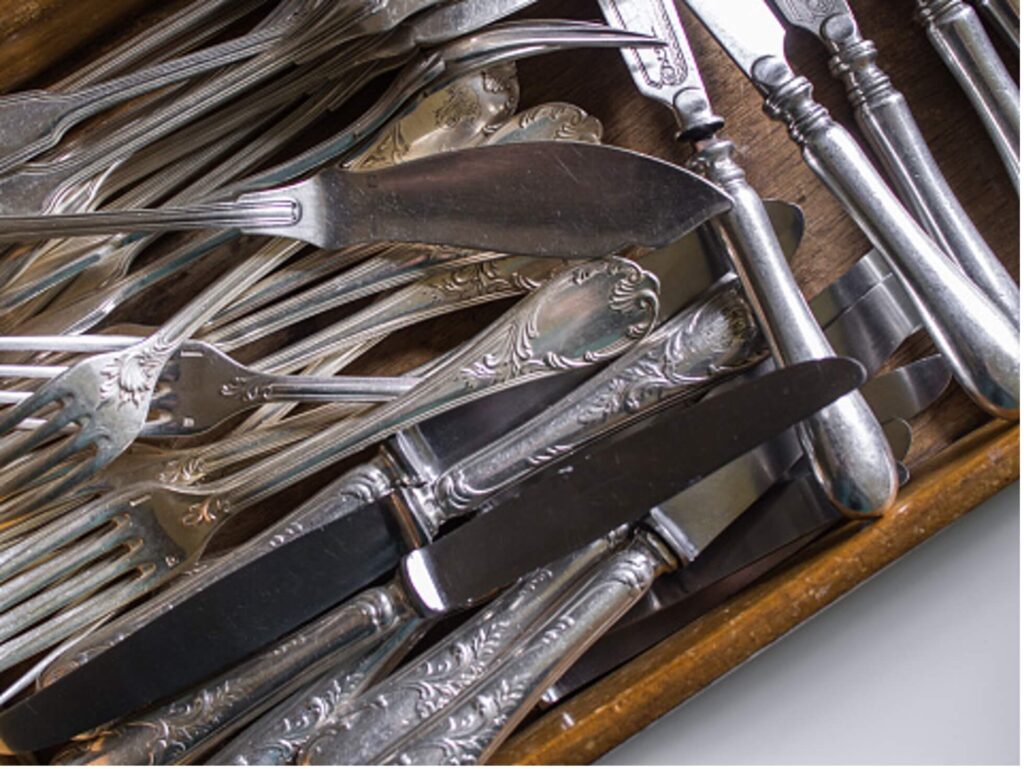 There are a few things you'll want to keep in mind when getting your silver appraised:
The condition of the silverware is important. If it's damaged, its value will be lower than if it's in excellent condition.
The age and maker of the silverware also affect its value. Antique silver and those made by well-known makers are worth more than ones made more recently or by unknown makers.
If your silver items are monogrammed, that will significantly impact the price as well since very few people are willing to buy an item with someone else's initials.
Determine whether you plan to sell your sterling silver items as a set or individual pieces. Typically, selling as a set may fetch a higher price. That's why it's worth consulting with a professional to figure out the best option for you so you can get the most value for your silver.
4. Find the right buyer
When you're selling silver flatware, it's important to find a buyer you can trust. You want someone who's experienced in the industry and understands the value of silver, like DMK Metal. There are a lot of scams out there, so be sure to do your research and only work with reputable silver flatware buyers.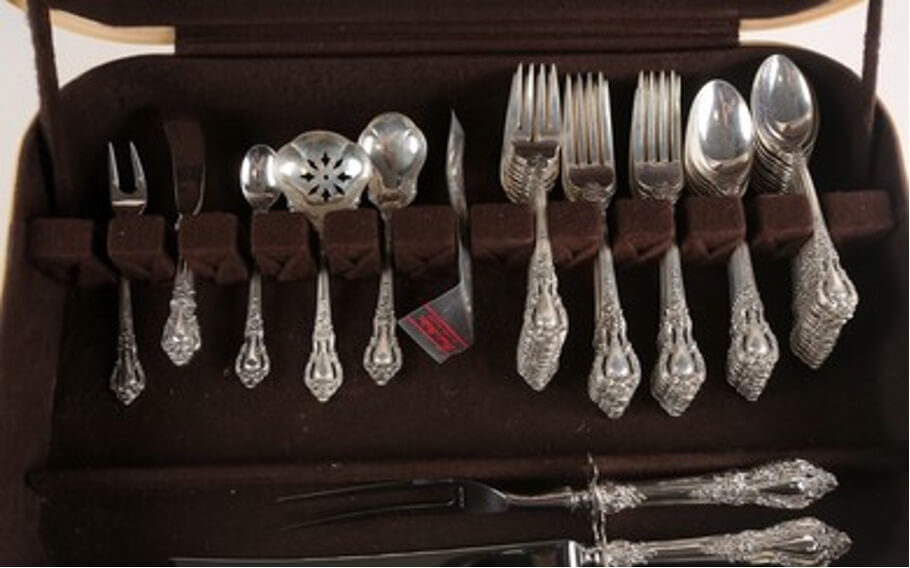 Here are some tips for finding the right buyer:
Research ones in your area. Specifically, look at online reviews and talk to people you know who have sold silver before.
Get quotes from several buyers to get an idea of what your silver is worth.
Ask questions about how the buyers operate and what their payment methods are.
Make sure you're comfortable with the buyer before selling them your silver flatware.
5. Be patient
Silver is a popular commodity, so finding a buyer who will offer a good price can take some time. Rushing into a sale can only hurt those chances.
Additionally, paying attention to the spot price of silver and selling when it's higher is key. Although easier said than done, if you want to sell for the greatest price, you will need to wait until the silver is high.
Overall, by being patient, taking the time to do your research, comparing the prices of various buyers, and watching the spot price, you can certainly get the most value for your silver flatware. 
Bottom line
Selling sterling silver flatware can be a great way to make some extra money. By following these tips, you can maximize your chances of getting a good price for your silver.
David Kaz, the owner of DMK Metal, has extensive knowledge in the industry and aims to help every client unleash the value of their precious metals. If you want to figure out how much your sterling flatware is worth and sell it at the highest price, DMK Metal can help.  
For more information, visit our website or contact us today.